Health
5 Tips for Helping Parents with Their Financial Health

+

Here's how to start the conversation today so there are fewer surprises tomorrow.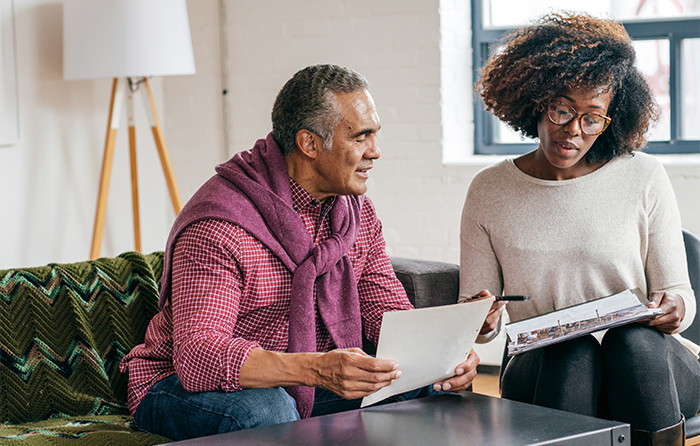 As your parents head into their golden years, they may face new financial challenges and, depending on your family situation, you may find yourself responsible for helping them deal with those challenges. That's no easy task, especially if you're juggling your own money matters and taking care of kids to boot.
Patti B. Black gets it. She's a 49-year-old mother of 17-year-old twins and, with the help of her two sisters, has been assisting her 87-year-old father with his finances for years. (She also helped with her mother's medical care up until her mom's death last year.) "There have been times where I've just felt flattened between teenagers and aging parents," she says. "I don't call it being part of 'the sandwich generation'—I call it being 'panini pressed'!"
But Black does have one advantage: She's a certified financial planner and partner at the wealth management firm Bridgeworth, LLC. Below, she shares her best personal and professional advice on how to handle this tricky stage of life.
Step #1: Get mentally prepared
After years of heeding your parents' advice, the tables are now turned. Embrace the awkwardness. "I like the saying, 'Get comfortable being uncomfortable,'" Black says. "None of these conversations are comfortable, but they're all really important." This is also why they shouldn't be rushed. Just as you might approach "the sex talk" with your kids as a series of conversations rather than one clipped sit-down, Black says, you should approach "the finance talk" with your parents as an ongoing discussion. "It's unrealistic to go in and have one conversation and [expect your parents] to take action," she explains. "It's a start. Set that expectation for yourself to slow the pace."
That said, don't procrastinate: Initiating these conversations sooner than later means you're less likely to find yourself in a lurch should your parent develop a serious health condition or pass away unexpectedly. It's hard enough to deal with financial matters when you're not grieving or under stress.
Step #2: Approach your parents with empathy
Just as you might feel uneasy taking the reins on your parents' finances, they might feel uneasy handing them over. With that in mind, broach the subject with sensitivity. Talk in person if you can and consider starting with a story. Maybe it's something about a celebrity in the news or an update on a family friend ("I heard that Sue's mom is back in the hospital"). Then segue: "It made me wonder, What are your financial plans if either of you gets very sick or passes away?" If they're resistant to a conversation, appeal to them as parents. "Say, 'Mom and Dad, I'm really worried about you,'" Black recommends. "This way they're not just thinking about their needs, but your needs, too."
When it comes to decision-making, don't strip your parents of agency. "There's so much in life that they can no longer control, so whatever control you can give back to them is helpful," Black says. Even though she insisted that her parents move closer to family, for example, she didn't tell them where exactly they had to go; instead, she asked if they'd prefer to move from Tuscaloosa to Birmingham, Alabama, where she lives, or to Georgia or Florida, where her sisters live. "You limit the choices, but you give choices whenever you can," she says. For more pointers on how to create a respectful and productive dialogue with your aging parents, Black recommends reading How to Say It to Seniors: Closing the Communication Gap with Our Elders, by David Solie.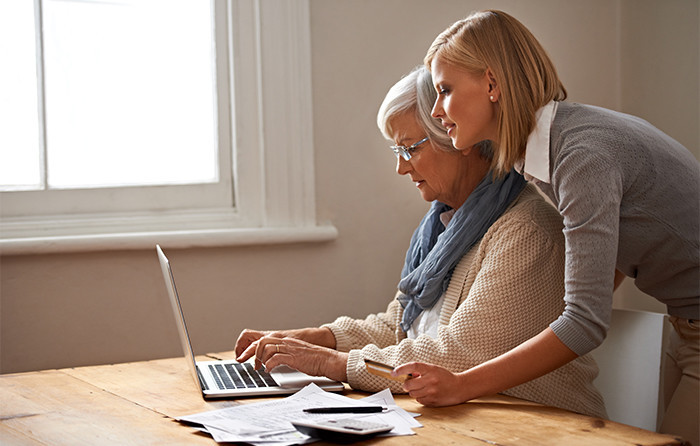 Step #3: Ask questions
In order to understand your parents' overall financial health and monthly obligations, you'll need to inquire about:
Income: How much regular income is getting deposited into your bank account and where is that coming from? Social security? A retirement account?

Savings: Are you working with a financial adviser? Can I meet that person?

Bills: Do you have a record of what bills you pay and how you pay them?

Debt: Do you have any debt?

Banking: Can you give me a copy of your recent bank statement? Does anyone else have signature rights on your bank account?

Credit: Can you give me a copy of any credit card statements?
Then there's the issue of medical care, a key component of their financial health, which requires that you collect vital information about:
Insurance: What coverage do you have? Can you give me a copy of your insurance cards?

Doctors: Who is your primary care physician? Have you been seeing any specialists?

Long-term care: How do you plan to pay for any unexpected medical costs?

Medications: What prescriptions are you taking?
Thinking long-term, you'll also need to find out if your parents have a will, life insurance, or money set aside for funeral arrangements. Finally, it's worth noting that money problems can be one of the first signs of dementia. The National Institute on Aging recommends looking out for red flags like unusual purchases, unpaid/unopened bills, or trouble balancing a checkbook or understanding a bank statement. If you notice any of these issues, start by encouraging your mom or dad to visit a primary care doctor.
Step #4: Organize files
As you're asking your parents the questions above, find out whether they work with hard or digital copies of important documents (or a mix of both), then track them down so you know exactly where everything is located. If paper documents are kept in a safe, find out whether you need a key or combination code to access them, and if they're digital, make sure you know any relevant usernames, passwords, and answers to security questions. Organizing this information now is likely to prevent headaches later.
Step #5: Call for backup, if necessary
If your parents' finances are too complicated to handle on your own or if you're experiencing conflict during these talks, Black recommends hiring a certified financial planner, psychologist, and/or an estate-planning lawyer. It's okay to admit that you, too, need help, and an objective third party could make everyone's life easier.