Nowadays, it's harder to keep up with your healthcare needs. Here's how you can take care of yourself easily—and affordably.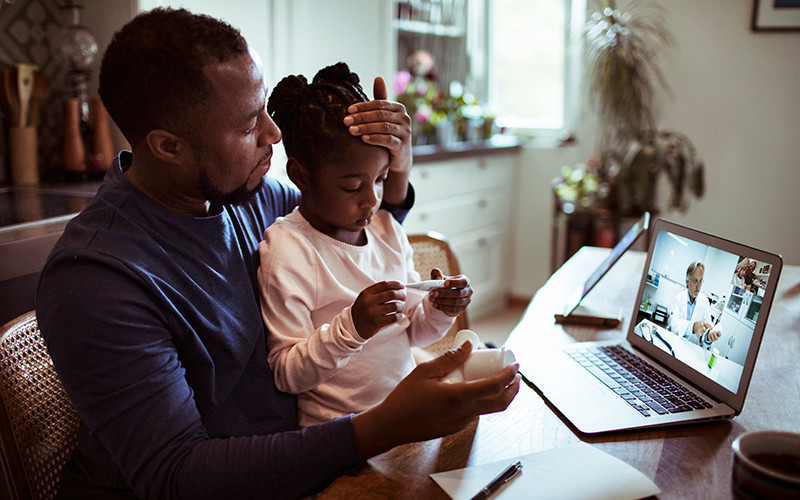 Over the past few months, healthcare as we know it has changed. As social distancing to help stop the spread of COVID-19 went into effect, Americans had to take into account what was necessary to leave the house for, and what wasn't. And worries over possibly contagious people at the doctor's office or hospital made people re-think going to the doctor in-person. However, video visits are finally taking off, making it easier, cheaper, and more convenient to see a doctor. Below, find five reasons why telehealth—also called video visits—are a great healthcare option across the board.
They're Simple to Book
For healthcare services like Sesame, which connect patients and doctors directly for in-person and video visits, you don't need any special equipment or knowledge. Simply go to the Sesame website where you can search for doctors, clinicians, and specialists close to your home. You'll find doctors who can handle anything from common ailments like ear infections, colds, or sore throats, to more in-depth care like mental health therapy or physical therapy.
You Can Choose Your Doctor
Even before the pandemic, healthcare wasn't easy. Doctor offices were being snapped up by large practices and you could never be sure you'd be seeing the doctor you liked and had a history with. Now you can choose from a wide variety of doctors who have been vetted ahead of time and who provide a wide range of services and specialties.
Get Care Right When You Need It
Ever call into a doctor's office and the first available appointment is weeks out? Using Sesame, you can make virtual or in-person appointments on the same day or up to 30 days out, and choose the time that works best for you. And if a specific doctor doesn't have availability, you can just choose another doctor from the list. Better yet, on Sesame, you can reschedule or cancel your appointment up to 24 hours before and get a full refund.
No Surprise Medical Bills
Sesame is unique in that every doctor sets his or her fees as transparent on the website, and patients pay for their services ahead of time using a credit card—including those attached to health savings accounts (HSAs) or flexible spending accounts (FSAs). This means you never get hit with exorbitant bills. In addition, service fees are up to 60 percent less than you'd normally pay, making it the perfect solution for someone who doesn't have insurance. That said, Sesame fees are often less than the cost of co-pays, so even those who do have insurance may end up saving a lot of money with the service.
You Can Get Care via Video or In-Person
Most doctors and healthcare clinicians on the service are available for video and in-person visits for services like MRIs, X-rays, dental work, blood tests, and more. And no matter how you choose to be seen, you have a 24-hour cancelation window, so if your needs change you can get a refund.
To learn more about Sesame, check out sesamecare.com.