How to Pair Fresh Mozzarella with Your Farmer's Market Haul
Fresh fruits and vegetables from the farmer's market taste even better paired with fresh mozzarella. In partnership with BelGioioso Cheese, here are a few of our favorite ways to match fresh mozzarella with seasonal produce.
There's very little that isn't better with fresh mozzarella—especially the bounty of fruits and vegetables you bring home from the farmer's market. Here are a few ideas to try the next time you fill your basket with the outdoor bounty.
Watermelon and Fresh Mozzarella Salad
Let the sweet and salty balance of BelGioioso Fresh Mozzarella and watermelon be a surprising addition to your summer dinner party. Cut watermelon and fresh mozzarella into cubes. Toss them with a bit of torn mint and a sprinkle of kosher salt. Stir to coat, and let sit for 30 minutes while the cheese and fruit pieces absorb the flavor.
Green Goodness Sandwich
If you get carried away by the array of beautiful produce at the farmers' stands, you can make a spectacular sandwich to capitalize on all those fresh flavors. Spread a bit of green goddess dressing on two slices of seeded whole-grain bread. Then pile on the veggies: cucumber, avocado, sprouts, lettuce, and green heirloom tomatoes. Finish it off with a few slices of BelGioioso Fresh Mozzarella.
Chard Salad with Marinated Fresh Mozzarella
Swiss chard might not seem the most obvious summer salad choice, but the colorful shoots can be softened with a bit of vinaigrette. Combining chopped chard with grape tomato halves and a bit of spicy marinated fresh mozzarella (soak cubes in olive oil, red pepper flakes, and salt for 24 hours for the best flavor) gives new life to a leafy green most people assume is only good when stewed or braised. For the most tender chard, massage the leaves briefly with vinaigrette, and let it rest before serving.
Tomato-Peach Salad with Fresh Mozzarella
The clean, fresh flavor of the cheese balances the tang of tomato and the sweetness of peaches. You can serve as is, on the side of a picnic plate, or consider adding the salad to cold pasta with a vinaigrette for a simple no-cook summer dinner.
Grilled Veggie Pizza
If your basket was bigger than your meal list, you may be staring down a variety of great veggies in your kitchen that you need to use before they begin to wilt and fade. The fastest (and let's be honest, most delicious) way to use up fresh produce is by making a grilled veggie pizza. Throw everything you got at the market on a hot grill and cook until tender. Roll out pizza dough, then swirl pizza sauce or your own homemade tomato sauce on top. Pile on the grilled, chopped vegetables and finish with a generous layer of BelGioioso Fresh Mozzarella. Broil until golden brown and bubbly.
Melon, Fresh Mozzarella, and Basil Bites
This no-cook appetizer is an ideal way to use melon you purchased at the farmer's market. Slice the melon into wedges, pair them with torn pieces of fresh mozzarella, then wrap everything in prosciutto. You can finish off a plate of these fruity finger foods with a sprinkle of freshly cracked black pepper and torn mint leaves.
Fresh Mozzarella Tortellini Skewers
Give classic caprese a playful spin by skewering all the necessary components—basil, tomatoes, and fresh mozzarella cheese—and adding cheese tortellini. You can drizzle each skewer with pesto or let party guests dip them. This dish is a great option for picnics or on weeknights when you want a low-lift dinner.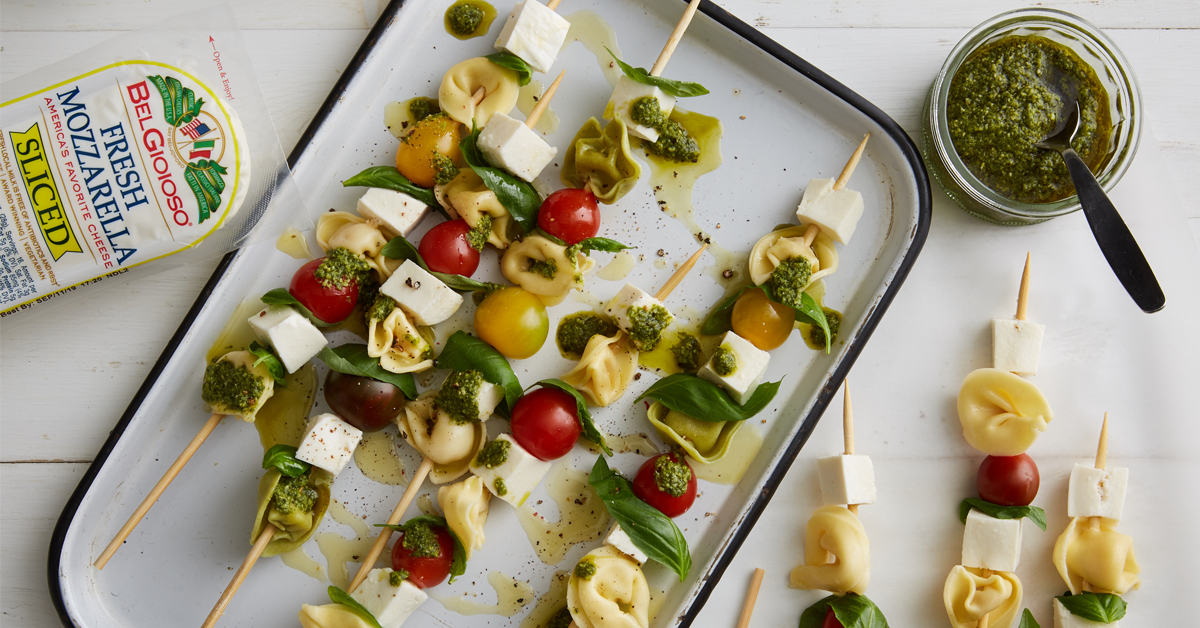 Fresh Mozzarella Tortellini Skewers
Makes 8 Skewers
---
8 ounces BelGioioso Fresh Mozzarella

Fresh basil leaves

Mini tortellini pasta

Grape tomatoes

8 wooden skewers

Pesto
Thread 1-inch pieces of BelGioioso Fresh Mozzarella onto skewers, followed by basil leaves, tortellini, and tomatoes. Serve with prepared pesto as a dipping sauce.
---
Grab your farmer's market finds, then pick up some BelGioioso Fresh Mozzarella for one-of-a-kind meals and snacks.