Relationship care is a vital part of self-care. Try these simple rituals to strengthen your bonds with loved ones in your life, in partnership with American Greetings.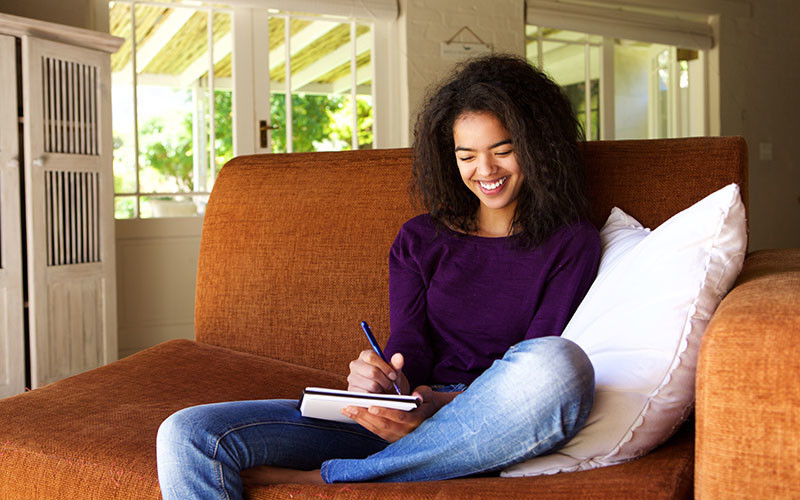 When you search "self-care" online, you'll likely find endless lists of relaxing ideas, ranging from bubble baths and face masks to restorative yoga classes and fresh flowers. But something major is missing from this peaceful picture.
One key component of self-care—our relationships with others—often gets left out of the conversation. "While taking good care of yourself is important, having healthy, fulfilling relationships is a vital part of being a human—and it's just as critical as any other part of self-care," says Chelsea Connors, a therapist and certified life coach.
It's not necessarily your fault when relationships fall by the wayside. It just happens in life as our priorities change, Connors says. Maybe you're married with kids, while other friends are single and career-driven. Or perhaps you've moved across the country for a job opportunity, while your family and friends still live in your hometown.
It makes sense that distance makes it difficult. In fact, 66 percent of people feel that living far apart from friends is the biggest barrier to building close relationships, according to a YouGov online survey of 1,218 U.S. adults (Oct. 2018). But that same survey found that caring for relationships ranks second among ways to improve wellness, alongside diet and exercise.
If you're realizing that your relationships could use some attention, you're in luck. It's possible to maintain strong, vibrant, and meaningful relationships with family and friends, no matter where they live. It just takes adding a few extra habits to your self-care routine. Keep reading to find out how.
1. Make a plan to reach out.
As a military wife, Connors has moved frequently, and as a result she has friends scattered all over the country. To help stay on top of maintaining her relationships, she creates a category in her weekly planner dedicated to family and friends. "I'll write down names of people I haven't touched base with recently," she says. "Every Sunday, as I plan my week ahead, I pick one or two people per week who I'm going to reach out and reconnect with." Then, she'll use at least one of the ways below to stay in touch.
2. Use social media.
Sure, social media gets a bad rap when it's used too much, or in the wrong way. But it can be a playful and easy way to stay in touch that doesn't take up a lot of time, Connors says. Start by responding to friends' photos via direct message, commenting on social media updates, or tagging them in a meme that reminds you of them, she suggests. "Sending a video message or response on [social media] is also awesome—it's fun and a personal way to restore a relationship."
3. Pick up the phone.
Breaking news: In addition to an entertainment device and texting machine, your smartphone also functions as a telephone. "I love phone calls," Connors says. "I think it's a lost art since we text so much these days."
Call up someone on your "to contact" list when you have some time to talk and indulge in a long catch-up session. If they don't answer, leave a voicemail, Connors suggests. "People love when I leave voicemails," she explains. "They say it adds another layer of personalization, just to know I was thinking of them."
4. Send snail mail.
In today's society, sending a greeting card is like the cherry on top of an already sweet sundae when it comes to communicating with friends and family. "When someone goes out of their way to buy a card, buy a stamp, and put it in the mail, it's a testament of how much they care about you," Connors says.
On your next visit to the store, stock up on American Greetings cards for a variety of people in your life (the sillier the better, in our opinion). Your loved ones are guaranteed to appreciate it. "It's rare these days that we get mail that's meaningful," Connors notes. "We get [packages], we get bills, and then when a personalized note shows up, it feels incredibly special."
Foster your relationships with an American Greetings card.